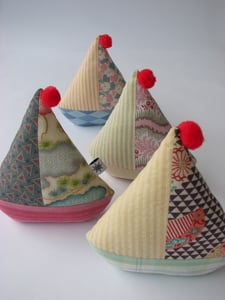 $

39.95
Sail Away Boats - Holiday on the Island of Flowers and Fruit.
Glide through the flowing blue waters of your paradise island. Be at peace.
The fabled floating islands of paradise have been a part of the folklore of many peoples around the world. It was said that those who lived on them were always happy and never aged. Many adventures set out to find these islands and there are tales of those who found them. The description of these blessed abodes are always of the beauty of the trees, water, flowers and fruit.
Just to imagine an island holiday is enough to be filled with fresh thoughts and renewed joy....so to allow your mind to sail away on a holiday to the Island of Flowers and Fruit.
Currently series 1 has four limited edition variations: Fragrance, Golden Pine, Wildberry Palm and Deckchair Delight.
Dimensions: 16cm (6 1/2 in) high, 15.5cm (6 1/4 in) wide.