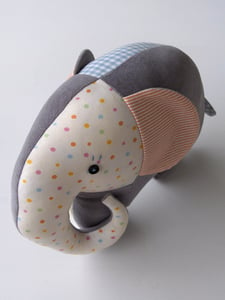 $

105.00
Piccabu Elephant and Molehill Mouse are best friends, they help each other gain perspective on life. They prove that the very big and the very small can be friends and help each other.
Piccabu Elephant raises Molehill Mouse up onto his back so that his little friend can see life's mountains are indeed only molehills.
Molehill Mouse tells Piccabu Elephant stories of all the secret passages that lead to surprising new territories and stores of sweet food - there is nowhere that Molehill Mouse can't go.
Did you know that the Hindu God Ganesha, who has an elephant's head, is the God invoked at the beginning of projects particularly those connected to creativity? Ganesha is called upon because he is the Remover of Obstacles and God of Wisdom. His mount is the mouse because mice are known to be able to go everywhere without hindrance. They do make for an interesting pair and so were the inspiration for these two toys.
Piccabu Elephant and Molehill Mouse are both made using the finest cotton velvets and designer quilting cottons. They are each weighted to stand independently and are sculptured stuffed to obtain their fully bodied shape.
Piccabu Elephant stands 18.5 cm ( 7 1/4 inches) tall and is 31cm (12 inches) long trunk to tail.