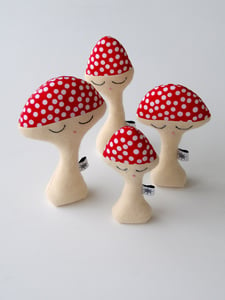 $

29.95
Sleep time wouldn't be the same without a story. Luckily Night-Night Mushrooms know many magical tales for sleepy heads to dream about.
When I think about bed-time stories I can't help thinking of the magic mushrooms with the red and white tops. The image of these mushrooms takes me immediately to the world of fairy tales and legends - what a wonderful place is the imagination! Fairy tales and myth take us on a journey inside the human psyche and these stories can often be of help in later life. As an artist, I can tell you a little imagination goes along way. Night-Night Mushrooms are a tribute to story time and the land of dreams.
There are 6 different mushrooms (four released at this stage). They are made of wool blend felt and a wonderful, rare random spotted fabric for the top. The face is hand stitched in sashiko cotton thread. Night-Night Mushrooms are weighted to stand independently.
Dimensions: Night-Night Mushrooms range in size from 14cm (5 1/2 inches) to 18cm (7 inches) tall.
*****
Special prices for multiples:
Pair of mushrooms (your choice) $50.00
Complete set of 4 (one of each) $95.00
contact me directly for this offer
*****