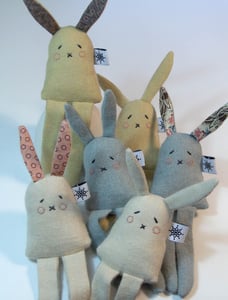 $

55.00
Biscuit Bunnies! They're the most delightful guests to have over to tea but you'll have to watch that they don't hop into the tea-cups. When they're not investigating the blend you prefer they like to sit quietly listening to the wind in the trees, thinking on buttons and balls of string.
Biscuit Bunnies currently come in Oatmeal Cream and Gingerbread and Blue Meringue. Made of the softest baby blanket brushed drill cotton with the cutest white corduroy tail the Biscuit Bunnies' sand weighted body is a tiny 6.5 cm (2 1/2 inches) but together with their long weighted legs and cloud brushing ears they measure 22 cm (8 3/4 inches) tall.
you can choose Original or ear variation fabric.